2nd Mitsubishi Electric Cup: Budding engineers battle it out at grand finale of automation contest
"Team Innovators" emerge as winners of competition, take home Rs 1 lakh prize money
Pune, February 18: The grand finale of the Mitsubishi Electric Cup 2017 -- the national-level automation competition for students organised by Mitsubishi Electric India's Factory Automation and Industrial Division (FAID) -- was held on February 18 at the College of Engineering (COEP), Pune. This was the second edition of such competition held by Mitsubishi Electric India, a leading player in Factory Automation. The competition started in July last year when Mitsubishi Electric India invited applications from technical institutions across the country.
Amidst overwhelming response, the organizing committee of the Mitsubishi Electric Cup shortlisted a total of 35 teams from across the country to compete in the final round at College of Engineering (COEP), Pune basis the relevance with theme of the competition "Intelligent Manufacturing for a Greener Tomorrow" and other factors like Innovation quotient, Originality, Suitability to adopt etc.
The final round that spanned over two days from 17th February to 18th February, 2017 showcased some mind-boggling technological innovations created by budding engineers using Mitsubishi Electric Factory Automation products.
The winner team 'Team Innovators' from Ajay Kumar Garg Engineering college, Ghaziabad walked away with prize worth of Rs 1 lakh. The second place was taken by "Con-Sol-E" from Institute of Technology, Nirma University, Ahmedabad who took home prizes worth Rs 75,000 and "The Innovators" from ISTC, Chandigarh secured the third spot and received prizes worth 50,000. All the participants were given certificates of participation.
The theme for this 2nd edition of the contest is "Intelligent Manufacturing for a Greener Tomorrow". This theme is kept in line with the environment statement and commitment of the Mitsubishi Electric 'Eco Changes for a greener tomorrow.' Under the theme, students are required to integrate Mitsubishi Electric's factory automation products including PLC, servo, inverter and human-machine interface etc., build up and achieve an analogous system of intelligent manufacturing and energy saving, based on e&eco-f@ctory concept while taking e-f@ctory system as the trunk.
The competition aimed at providing on-field training to budding engineers from across the country and improving the ability of college students for engineering application, stimulating their interests in learning engineering technology and building up an innovation capacity in them.
Speaking on the occasion, Mr. Makoto Yokoyama, Director and Division Manager, Factory Automation and Industrial Division, Mitsubishi Electric India said, "I would like to express my sincere gratitude to all participants and supportive members from institutes, organizations and companies who made this event successful. I congratulate all the winners; this competition was designed keeping in mind real-life experiences and challenges that a budding engineer faces. We hope that the 2nd Edition of ME Cup has motivated many to think out of the box and innovate. I am positive that we will have more young minds innovate in the future editions of ME Cup as well"
Dr Ahuja, Director, College of Engineering Pune, responded that "Mitsubishi Electric Cup is an excellent platform for students in the country to showcase their innovation for factory automation. This is not just a contest, it is an experience that allows students to learn and explore real-time situations that are a part and parcel of the manufacturing sector. The MECUP gives them exposure to excellent training and paves the way for better employment opportunities.
" Also speaking on the occasion, Mr. Makoto Kitai, Managing Director, Mitsubishi Electric India said "It was a pleasure to witness the young engineers of India in the 2nd Edition of ME Cup. I witnessed many fresh ideas and Innovation and am sure the next editions will be a step ahead in this chapter. Mitsubishi Electric Cup is also a part of Mitsubishi Electric India's CSR initiative which is supporting the education system and "Skill India' initiative Mitsubishi Electric India is committed to contribute to the society it operates in, through a wide range of activities".
News Gallery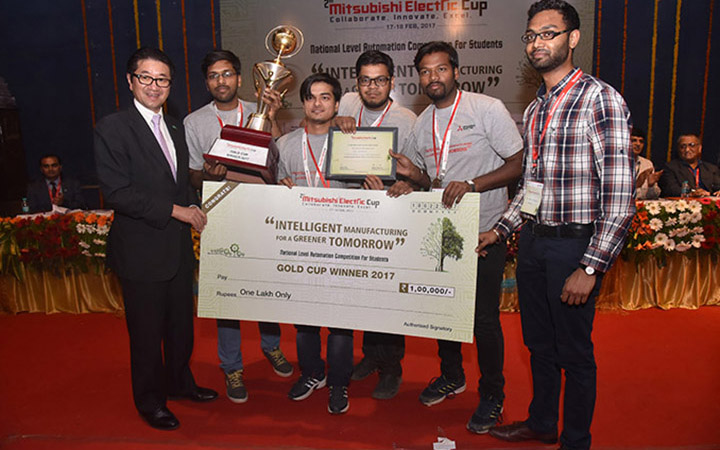 2nd Mitsubishi Electric Cup: Budding engineers battle it out at grand finale of automation contest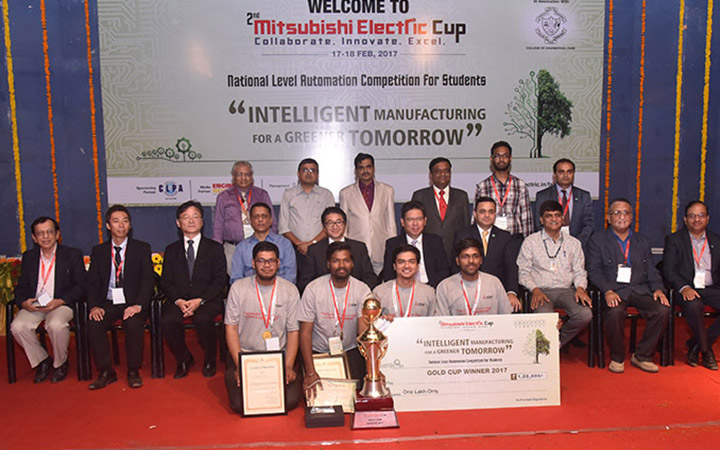 2nd Mitsubishi Electric Cup: Budding engineers battle it out at grand finale of automation contest