Mitsubishi Electric Factory Automation Division opens new customer call-centre for improved customer reach and support
Dedicated factory automation facility offers timely support and efficient solutions for issues
September 1, Pune: Mitsubishi Electric India (MEI), the Indian arm of the Japanese electrical and electronic equipment major, announced the opening of a new Factory Automation (FA) Call Centre in Pune. This strategic addition to MEI footprint provides extended customer support for FA through maintaining, controlling and managing inbound customer calls and requests.
The FA call centre expands the company's abilities to better serve customers by solving business needs in the form of providing quick response for enhancement in overall efficiency and generating a strong knowledge base. It aims to provide a single window access to customers for cases such as FA product related technical queries, repairs and training needs. The facility is well-equipped with an efficient team consisting of dynamic front-end personnel and highly skilled technical experts at the backend to address technical queries and provide quick support. The new centre will benefit customers including equipment makers and end-users, Channel Partners and other industrial customers. The range of services and calls handled include FA Products (PLC / HMI/Servo / VFD /Robots), FA Sales, FA Repair / Service and FA training.
"Guided by our customer-oriented policy, we have chosen to set-up our new customer service centre in Pune for increased proximity to our customers and to provide broadened services," said Mr. Katsunori Ushiku, Managing Director, Mitsubishi Electric India. "As with each of our global locations, we are focused on building sustainable relationships and strive to grow together with our customers."
Said Mr. Makoto Yokoyama, Director and Division Manager, Factory Automation and Industrial Division (FAID), Mitsubishi Electric India, "Our relationship with our customers is of paramount importance to us. They view us as a strategic partner and hence we strongly believe it is our responsibility to address all of their needs and requirements related to FA products. With this new FA customer service call centre we further reinforce our commitment."
Customers can get in touch with the service call centre by dialling the Toll-Free No. 1800 102 9603.
News Gallery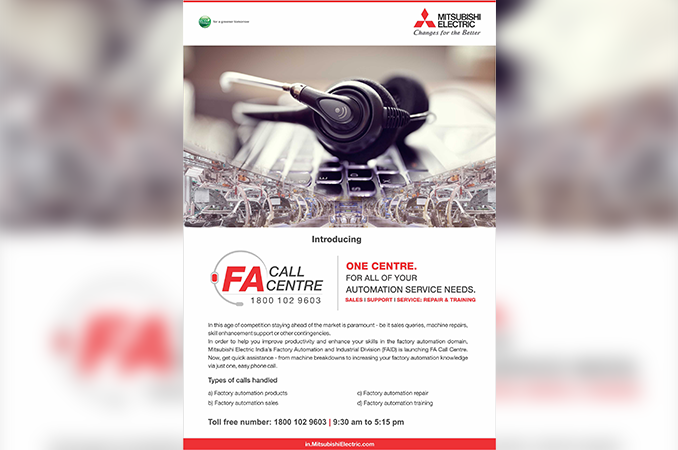 Mitsubishi Electric Factory Automation Division opens new customer call-centre for improved customer reach and support