Mitsubishi Electric Launches its new brand campaign "PARTNERING INDIA'S DREAM TO BE NO.1"
3rd December 2018: Mitsubishi Electric is a Global Leader in Electric and Electronic Equipment for Residential, Commercial and Industrial use. Mitsubishi Electric marked its presence in India in late 1950s with its first business for electric locomotives.
Since then it has been an endearing journey for Mitsubishi Electric to establish itself as a premium electric and electronic equipment manufacturer for a wide range of innovative and high-quality products which includes products and solutions for Air Conditioners, Automotive Equipment, Elevators & Escalators, Factory Automation and Industrial Systems, Semiconductor & Devices and Transportation Systems.
Mitsubishi Electric realizes the potential of the growing India and the brand has created its new campaign "PARTNERING INDIA'S DREAM TO BE NO.1" to clarify the contributions, products and offerings of Mitsubishi Electric in India. The creative thought takes audience through the ambitions of the new India. India in making is relentless and is in a hurry to achieve its goals in ways bigger than before. Mitsubishi Electric resonates with the new India's dream to be No.1 and is proud to offer it solutions that will take it to the pinnacle faster. The follow up business films are aimed at engaging the viewer with stories representing the new India's vision and how Mitsubishi Electric's businesses are contributing to this vision.
Shot in more than 50 Locations across the country with a crew of over 140 staff in 28 days, this integrated brand campaign which has 6 Films telling stories of the aspirations of common Indian and how Mitsubishi Electric is helping to achieve them. The brand film is a summary of all the 6 Films which has been released on 3rd December. The 6 films will be released phase wise in December and January. The campaign song has been sung by Mohan Kannan and it has an essence of India classical instruments including the Sarangi which is played by Ustad Sabir Khan, son of Legendary Sarangi player and vocalist Padma Bhushan Late Ustad Sultan Khan.
Talking about the new Brand Campaign ,Mr. KatsunoriUshiku, Managing Director, Mitsubishi Electric India Pvt. Ltd. said " The campaign resonates the brand's strength as a premium quality electric & electronic equipment company and explains how as a brand we are ready to support India to grow further. As an integrated brand campaign our purpose is to clarify our brand image and offerings. We will make extensive use of available digital technology to reach out to existing and new customers through this campaign and will support them in the best possible way."
By this campaign, the brand reiterates its commitments and tries to convey the message that how it is supporting the country in meeting its ambitions and fulfilling promises through disruptive technologies, solutions, and infrastructural support.
News Gallery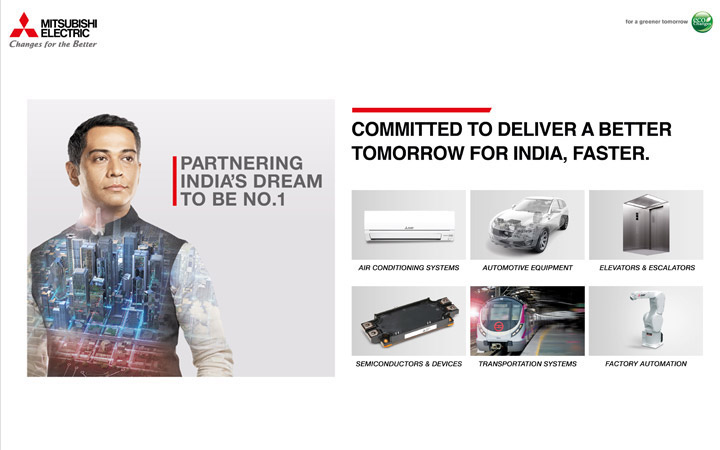 Mitsubishi Electric Launches its new brand campaign "PARTNERING INDIA'S DREAM TO BE NO.1"