Mitsubishi Electric Launches New Digital Advertising Campaign in India
Mitsubishi Electric Launches New Digital Advertising Campaign in India
Gurugram; 20th April, 2022: Mitsubishi Electric is a Global Leader in Electric and Electronic Equipment for Residential, Commercial and Industrial use. Mitsubishi Electric marked its presence in India in late 1950s with its first business for electric locomotives.
Since then, it has been an endearing journey for Mitsubishi Electric as a premium electric and electronic equipment manufacturer which represents quality. The company is into a wide range of innovative and high-quality products which includes products and solutions for Air Conditioners, Automotive Equipment, Elevators & Escalators, Factory Automation and Industrial Systems, Semiconductor & Devices and Transportation Systems.
The company launched its corporate strategy on 03rd June, 2021 with an aim to provide Integrated Solutions to address diversifying social challenges, in the four fields of Industry, Infrastructure, Life and Mobility, uniting all the capabilities inside and outside of the Group. For this purpose, the company will enhance its business foundation fostered over the past 100 years and transform its business models to create a sustainable society for all.
As per the new corporate strategy, the new campaign of Mitsubishi Electric is based on how the company is solving the social challenges of Industry, Infrastructure, Life & Mobility in India through its integrated products and solutions which will have a larger impact on the society. In the 1st phase of the campaign two digital films of 120 seconds each has been created on the themes of Infrastructure & Industry which will be launched and promoted through digital media in a phased manner.
The shoot was done in the last week of February with a crew of around 100 people in seven days covering over 10 locations across Pune and Mumbai with strict Covid-19 prevention measures. The films have been conceptualized by Hakuhodo India, directed by Mr. Sahil Shah and the music has been created by Mr. Anand Bajpai, vocals for two songs by Ms. Suvarna Trivedi and Mr. Anand Bhaskar along with voiceovers from Industry veterans like Mr. Rajat Kapoor, Ms. Nimisha Shrohi & Mr. Sameep Nanda.
Talking about the new Brand Campaign, Mr. Kazuhiko Tamura, Managing Director, Mitsubishi Electric India Pvt. Ltd. said "The campaign resonates the brand's belief of keeping the society as a central element in whatever we do. Mitsubishi Electric in India is no-more only a product company, but a holistic electric and electronic solutions provider which is ready to solve social challenges through its capabilities inside and outside of the Group and our new campaign is a testament to this thought"
Mr. Kosuke Kataoka, Managing Director of Hakuhodo India said "Mitsubishi Electric is an established and quality conscious company which offers a wide range of products. The challenge for the agency was to transform the product-based company image to an image of a company that talks about solutions and problems of the society that it can solve. We kept empathy in the core of communication basis the brief to bring out the essence of Mitsubishi Electric as a corporate citizen which is ready to solve social challenges of India through its products and solutions keeping the society central to it's thought"
By this campaign, the brand reiterates its commitment and tries to convey the message on how it is supporting Industry, Infrastructure, Life & Mobility to solve India's social challenges and meet its ambitions through disruptive technologies, solutions, and commitment.
Infrastructure Film Link: https://in.mitsubishielectric.com/en/feature/partneringindia/index.html
News Gallery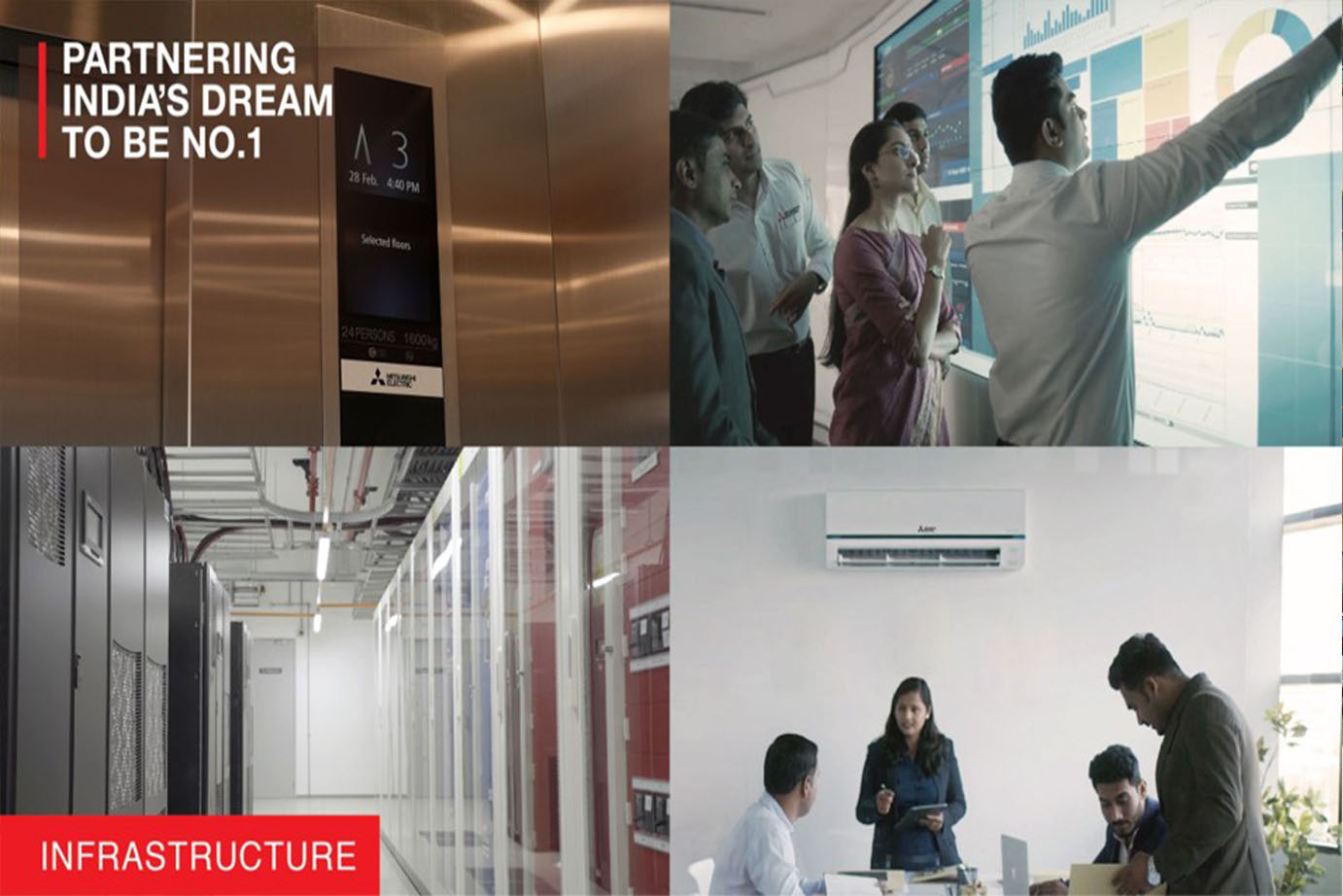 Mitsubishi Electric Launches New Digital Advertising Campaign in India