Mitsubishi Electric optimizes Comfort and Efficiency through its MSY GR and MSY GR(T) Series of Air Conditioners
Mitsubishi Electric is a well-known brand for Air Conditioners for Residential, Commercial and Industrial use. Mitsubishi Electric feels the need to create Air Conditioning systems that provide exemplary performance in the wide-ranging climatic conditions. Mitsubishi Electric's air conditioners are known for delivering high satisfaction, energy-efficient performance, and minimum impact on the environment.
Mitsubishi Electric pledges for all its products and endeavours, which stands for 'Mitsubishi Electric Quality (MEQ).' It promises the best experience in our products, services, partnerships and people. It lies at the very core of our business.
On Friday, 8th March 2019, Mitsubishi Electric has launched its new range of 5-star Air Conditioners, MSY GR and MSY GR-T Series. Where MSY GR Series are empowered with Inverter Technology and MSY GR(T) Series are catered to Tropical Inverter Cooling. The new range of Air conditioner provides features like powerful cooling with high energy efficiency and to bring optimal comfort. The New Luxurious and Stylish Designs are equipped with Tropical Inverter Technology, especially developed to suit the air conditioning needs of tropical regions. The operational range of MSY GR(T) Series is up to 52 degree Celsius (Outdoor Temperature) with an optimized heat exchanger and the PCBs for improved cooling performance.
The models under these new air conditioner series are equipped with optimized heat exchanger and high cubic feet per minute (CFM) for fast cooling. MSY GR Series will be available with cooling capacity range of 2.8 KW to 7.2 KW and MSY GR(T) Series has capacity range from 3.7 KW to 6.6 KW . Even under harsh tropical conditions, these units will be able to maintain the rated cooling capacity and achieve effective air conditioning. The newly launched Air conditioners have "New Remote Controller" which has a specialty to display the errors code on the remote controller for convenient trouble Shooting.
Both MSY GR and GR(T) Series are loaded with many developed features like Long Airflow and Dual Barrier Coating which ensure better performance and longer life, are especially suited for living rooms, and prevent hydrophobic dirt penetration into the AC.
The variants under both these series come with Micro Particle Catching Standard Filter, and optional-High Density Filter that catches even the finest dust particles and eliminate PM2.5. The inbuilt Aerodynamics Technology Series has another benefit to realize quite air conditioners. This function allows for highly efficient delivery of powerful and refreshing airflow, Quite Operation keeps the indoor unit level as low as 19dB offering a peaceful environment. Our unique cross flow fan holding Guinness World Record for longest running cross flow air which comes with auto vanes can move in all directions, by using the remote and has the Cross Flow Fans that guide air smoothly along each rotating blade, while air enters and expels makes it an exceptional model than its competitors.
Talking about the technology and Products, Mr. Yozo Ito, Director and Business Unit Head of Air conditioners, Mitsubishi Electric India (MEI) said,"Mitsubishi Electric Air Conditioners are developed under strict quality control standards and various quality evaluation test. The design of the product is prepared to establish long term relationship with the customer by providing high quality durable parts. Finally, the product is made of advanced production technology with top quality features inspected by experienced professionals. MSY GR and GR(T) series are equipped with such advanced features which ensures faster cooling with high energy efficiency to bring optimal comfort that caters to the needs of India and its climatic conditions".
News Gallery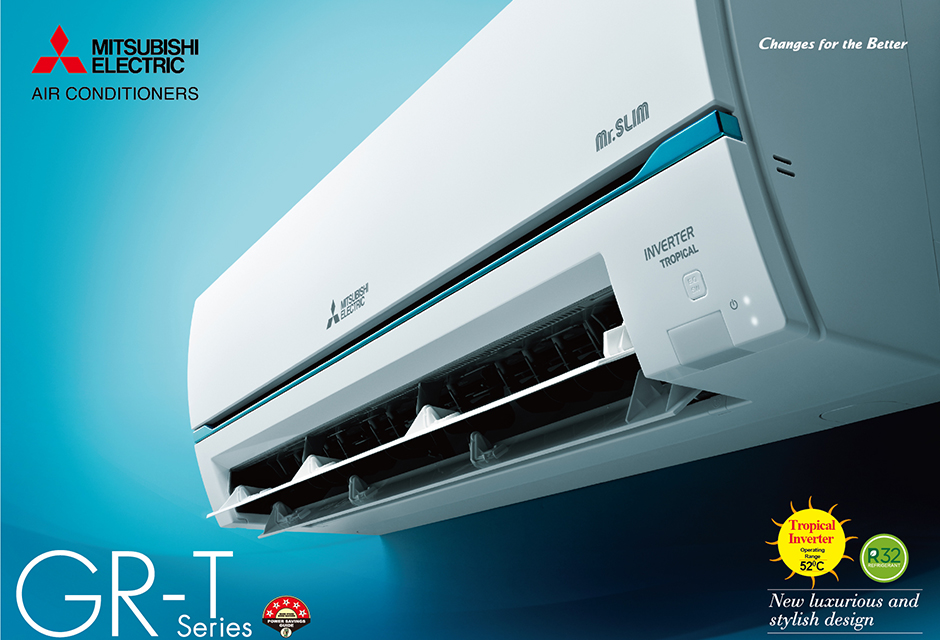 Mitsubishi Electric optimizes Comfort and Efficiency through its MSY GR and MSY GR(T) Series of Air Conditioners