All-India Training Network
All-India Training Network
Network Support Tools Provide an improved CNC Environment
The MEI – CNC dept. is offering vide range of Training programs to all its customer through their dedicated training centres in Bangalore, Pune, Baroda, Chennai & Gurgaon. The training team imparts comprehensive training on system interface, operation, application, maintenance etc., as per the yearly calendar, as well as customised training both at centres and on-site. There is specialised training module for specific dealers and also maintenance training module on customised CNC controls.
The course objective range from effective utilisation of resources to enhance productivity, reduce machine down time and reduce machine development time.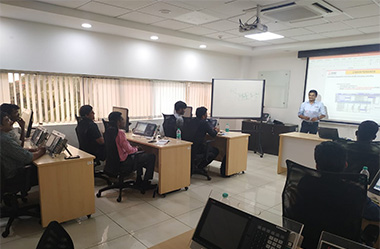 • Technical consulting for problem solving
• Training for installations & commissioning
• Constant technical up-gradation
These trainings are held in Pune, Gurgaon, Ahmedabad, Bangalore and Chennai regularly.
Training Programmes Course Details Training Calendar – Standard CNC

Operation Training

---

• Mitsubishi Electric CNC/Introduction of M70/M700 series
• Basic Controller features & function
• Basic operation programs & G-code cycle
• Data transmission procedure
• Basic Macro Programming
• Research Procedure
• Work measurement procedure

Maintenance Training

---

• Basic connecting of M70/M700 series
• Basic connecting of MDS-D-SV J3/SP J3 & MDS-D-Drives
• All backup & individual backup procedure
• Back lash & orientation setting procedure
• Maintenance Training Reference point establishment procedure
• Axis removal setting procedure
• Ethernet/RS-232 setting procedure
• On board ladder monitoring & editing procedure
• Alarm (how to read, identity remade)

CNC Interfacing Training

---

• CNC interfacing among devices
• Drive unit connections & parameterization
• Basic Parameter Setting
• Basic Ladder Training
• NC Explorer Training
• Note : conducted on request

Mitsubishi Electric India CNC Offices

Pune Centre

ICC Devi Gaurav Technology Park,
Unit No.402, 4th Flr,
North wing, Survey No 191-192(P),
Next to Indian Card Clothing Company,
Pimpri, Pune,
Maharashtra - 411018,
Tel: 020-68192274

Bangalore Centre

Mitsubishi Electric India Private Limited
Factory Automation & Industrial Division,
CNC Technical Center, Plot No.56
4th Main Road, Peenya Phase 3,
Peenya Industrial Area,
Bangalore – 560058
Karnataka, India
Tel:(Main) +91-80- 4655-2121


Gurgaon Centre

Mitsubishi Electric India Private Limited
Plot 517, Ground Floor,
Udyog Vihar Phase III,
Gurugram 122008, Haryana.
Tel: 0124-4630300

Ahmedabad Centre

Mitsubishi Electric India Pvt. Ltd.
Factory Automation & Industrial Division,
B/4 , 3rd Floor , Safal Profitaire, Corporate Road,
Prahaladnagar, Satellite
Ahmedabad : 380015, Gujarat, India
Phone: +91-79-65120063


Chennai Centre

Mitsubishi Electric India Pvt. Ltd.
Citilights Corporate Centre, No.1
Vivekananda Road, Srinivasa Nagar,
Chetpet, - 600 031,
Chennai, India
Phone: +91-44-49232222
Fax: +91-44-49232249

Coimbatore Centre

Mitsubishi Electric India Pvt. Ltd.
BMH Srinivas,2nd Floor,
Door No.1604,Trichy Road,
Near ICICI Bank,Coimbatore-641018,
Tamil Nadu ,India
Phone: 0422-4385606


Rajkot

602-603A, Alpha Plus,
Near Raiya Telephone Exchange,
150 feet Ring Road,
Rajkot- 360007, Gujarat.
Tel: 0281-2585525

Hyderabad

H No: 7-1-617/A, 615 & 616 ,
5th Floor, Imperial Towers,
Ameerpet, Hyderabad, 500016,
Telangana
Tel: 040-43438888

Email for CNC Training: nc_technical_india@asia.meap.com